WELCOME TO THE REAL-TIME COMMUNITY!
Real-Time technologies are growing at an unprecedented pace and are shaping countless industries in their wake. With 23,866 participants since its inception in April 2020, RTC has established itself as the World's Premiere Event for Real-Time Technologies. Building on this success, RTC has undertaken a strategic initiative to cater to the expanding Real-Time Community, and has achieved considerable milestones by creating the RealTime Society and organizing the RealTime Economics Summit.
ENGAGE WITH HIGHLY MOTIVATED PROFESSIONALS
at the World's Premiere Event for Real-Time Technologies.
December 4-6, 2023
December 2023 conference theme:
Real-Time (R)Evolution: Embracing AI Advancements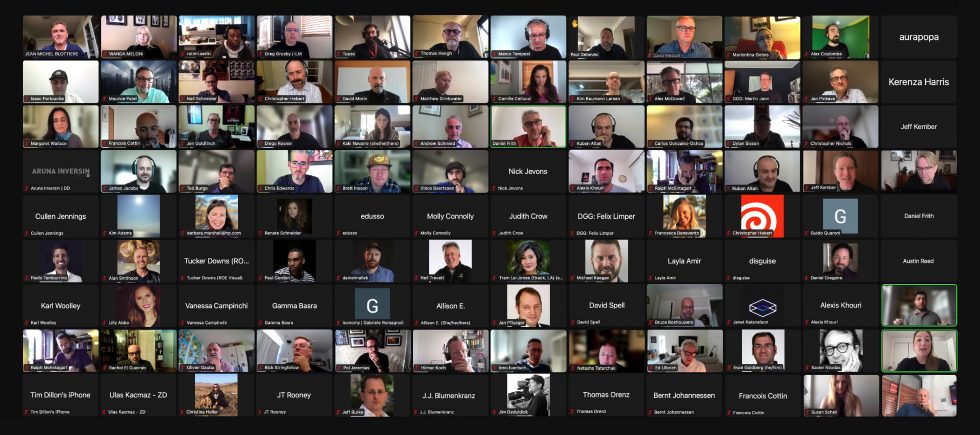 BECOME A MEMBER
• Lead your own Special Interest Group
• Join Special Interest Groups (Digital Fashion, Interactive Storytelling, Interoperability, and more)
• Expand your network and mingle with your peers
JOIN THE ELITE
at the RealTime Economics Summit, an in-person exclusive and invitation-only summit for 250 C-level executives, entrepreneurs, and investors in the real-time industry.
Mark your calendar for next year!
May 13 & 14, 2024
IN-PERSON – NYC
RTES 2023 in May in NYC was a BLAST!!  Check out our pictures and videos, and discover what you missed this year!!
Hours Show, Live and in Real-time
A  DREAM AUDIENCE TO MAXIMIZE YOUR IMPACT
Have Been Working in Their Industry for More Than 10 Years
Will Include Real-time Solutions in their Processes, Products or Services in the Next 2-3 Years
of Attendees Recommend RTC to Friends and Colleagues!
MEET WITH THE VISIONARIES WHO PARTICIPATE IN RTC
All trademarks, logos and brand names are the property of their respective owners. All company, product and service names used in this website are for identification purposes only. Use of these names,trademarks and brands does not imply endorsement.
Extending Beyond our Global RealTime Conference Events, RTC has embarked on a Strategic Plan to Meet the Needs of the Real-Time Community, as it Grows.  RTC offers the real-time community the most complete resource and holistic hub for real-time professionals to come together to learn, share and collaboratively and in real-time – all year long, from anywhere on the planet.
Real

Time Society
Fall 2022
The RealTime Society is a professional organization representing and serving the full breadth of members of the real-time community. 
Real

Time Conference
November 7-9, 2022
The fully virtual cross-industry RealTime Conference continues, bringing the worldwide real-time community together to connect, learn and discover – in real-time.
Real

Time Economics Summit
May 15 – 16, 2023
RealTime Economics Summit is an in-person exclusive and invitation only summit for 250 business and creative professionals in the real-time industries.
Real

Time Club
Spring 2024
A series of cutting-edge monthly meetups with a selected group of real-time visionaries and innovators to keep the conversation going between conferences. 
Real

Time Institute
2024
A real-time training program tailored to the needs of the industry and the community.
Real

Time Research Lab
2026
A research lab committed to developing innovative and practical solutions to real-time challenges.
EMPOWERING INDUSTRY CROSSOVER
RTC creates a unique opportunity for thought leaders, influencers and innovators, across industries and market sectors that are too often siloed, to learn from one another, transmit and apply that information back to their respective fields, and grow their business.
WELCOME TO OUR NEW ADVISORY BOARD MEMBERS!